Heading
Case Study:
Woodford Reserve
Sense Check
Hero Content
WYSIWYG
The Accelerated Read
We helped Woodford Reserve bring to life the synergy of their brand and the Old Fashioned Cocktail in a fresh, out-of-the-box manner to deliver quality content with intriguing creative and stimuli that laddered up to their ATL 'Spectacle of the Senses' messaging. We partnered with VICE to co-produce a campaign that enabled Woodford to engage with a broader audience, embracing a new, inclusive generation of bourbon drinkers, while breaking away from stereotypes in the category. Throughout, we linked the campaign assets to Woodford's ecommerce pages to create a seamless customer journey.
Find out more
Content
WYSIWYG
Challenge
2021 turned us into a nation of 'DIY Mixologists'. From a Manhattan to an Old Fashioned, a John Collins to a Tennessee Mule, experimentation was everywhere.
This change in behaviour presented the perfect opportunity for Woodford Reserve, but we needed to do something truly different to grow sales, outpace the category, increase brand perception and break away from whiskey category stereotypes.
Image
Image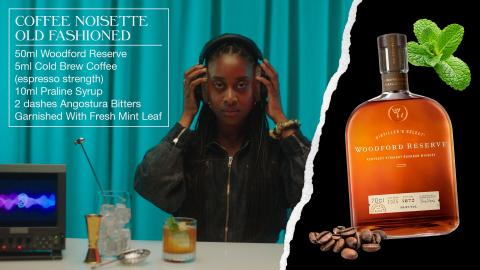 Content
WYSIWYG
Solution
Our primary research found that DIY mixologists were primarily motivated by experimentation. Consumers had been deprived of their senses and of being able to enjoy bars during lockdowns, and people were generally yearning for new experiences and tastes, so we took them on a unique sensory journey with innovative and immersive cocktail experimentation (led by Bupe).
We partnered with Vice and Woodford to give the nation's palettes something to celebrate. Taking inspiration from Woodford's "A Spectacle of the Senses" brand messaging, we took viewers on a journey into how our senses experience the world around us, incorporating unique Woodford Reserve Old Fashioned cocktails directly into the action.
Our media plan worked across all the senses we were trying to stimulate. Sight (video mini-series), sound (sponsored playlists), smell (hosted events) and taste (cocktail-making classes).
These assets were also added to Woodford's Amazon and ecommerce pages. Finally, we also aligned with Woodford's Old Fashioned Month campaign instead, all seamlessly linking through to herald the celebrated Old Fashioned. This created a seamless journey from the brand activity to sales, ensuring that the idea led to business results.
Content
WYSIWYG
Results
Our experimental strategy produced explosive success:
Woodford became the #1 selling whiskey on Amazon
Off-trade sales saw an increase vs 2019 (pre-Covid highs
Total sales were higher than the category average
We saw an increase in sales from people who hadn't bought the brand before
The campaign drove an increase in brand scores vs. non-exposed
Image
Image